About Us
The Waikato Outdoor Society (WOS) is set in a pleasant rural location close to Matangi,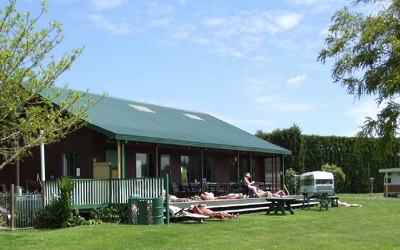 less than 10 minutes drive from the south eastern boundary of Hamilton and is situated on 5 hectares of land, of which approximately 1 hectare is used for club activities.
The club has modern club rooms and facilities. These include a solar heated, salt water swimming pool, mini golf course, hot tub, children's play area and miniten court. The club makes a great base for visits around the tourist locations of the Waikato. Hamilton has the largest Hot air balloon festival in New Zealand and the largest Agriculture fieldays South of the Equator.
IT IS APPROXIMATELY 1 HOURS DRIVE TO:
Rotorua: Cultural and geothermal.
Waitomo: Cultural and glow worm caves.
Raglan: The best left hand surf break in the world.
The club has excellent facilities for motor homes, caravans and tenting, as well as a cabin. The grounds are suitable for both brief overnight stays and longer relaxing stopovers.
The club welcomes naturists from all over New Zealand and around the world. The grounds are also available to NZMCA members who wish to use them.
Don't miss out on our biggest event of the year - The Annual Feburary Waitangi weekend Mini Rally - 3 or 4 days of games, leisure and fun for young and old - everybody welcome.
To read a bit more about the facilities of the club, please go >>here<<.
The Benefits of Naturism
Sun exposure and vitamin D Naturism has many health benefits, despite the negative publicity on the risk of skin cancer from too much sun exposure. It is a known fact that sun burn leads to skin cancer but not sun EXPOSURE.
The holistic approach of the naturist philosophy goes much further than just lying about in the sun and getting an all over suntan. In a survey of New Zealand naturists, less than 20% said that their favourite activity at their club was sunbathing. ...(more)