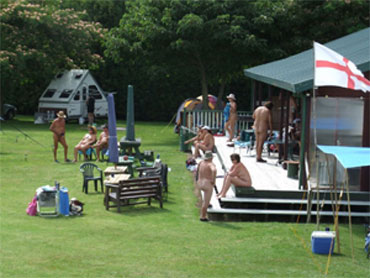 Sun exposure and vitamin D.
Naturism has many health benefits, despite the negative publicity on the risk of skin cancer from too much sun exposure. It is a known fact that sun burn leads to skin cancer but not sun EXPOSURE.
The holistic approach of the naturist philosophy goes much further than just lying about in the sun and getting an all over suntan. In a survey of New Zealand naturists, less than 20% said that their favourite activity at their club was sunbathing. The office worker who spends two weeks of his summer holidays at the beach would be at far greater risk of sun BURN than the hardened naturist. The area of skin covered by a bathing suit doesn't really make much difference when out in the sun - the same precautions have to be taken naked or in togs. That said, sun protection is ALWAYS advisable when out in the sun, especially between 10am-2pm in the summer months.
There is a lot of literature on the benefits of the sun on the body, due to the production of vitamin D in response to sun exposure. With people 'covering up' outdoors, there are more and more cases of rickets in the population, which is directly due to lack of vitamin D. The recommended 'dose' of sunlight on the total body, required to maintain adequate vitamin D levels, is considered by many specialists to be half the time it takes to burn per day. Not only does it feel good, but the sun has been documented to be beneficial in the prevention of a large number of diseases, from rickets to some forms of cancer (including melanoma), arthritis, osteoporosis, diabetes and cardiovascular disease.